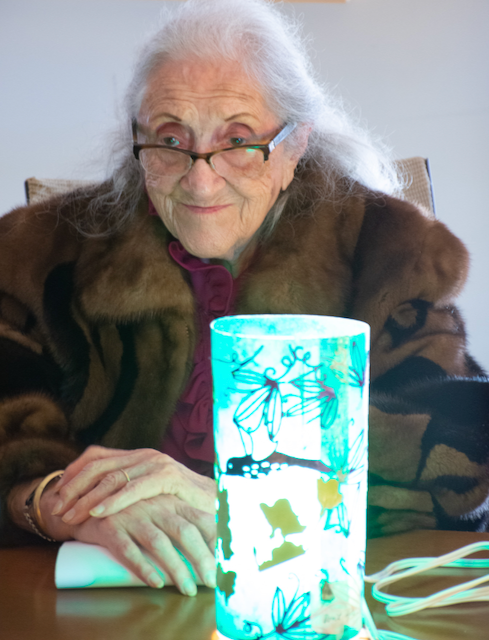 Raye David
Light #20
I cleaned hate out of my life.
From: Milwaukee WI
Dedication: "To the 6 Million and especially my father. To my life…I had a great life….except for a few years. You can not dwell on the bad. Every day is going to be as good a day as I make it."
Classification: Survivor
Raye's journey in life had a beautiful beginning. "I had a great childhood. I was pampered, not a brat. There is a difference." Her world collapsed when World War II started in 1939. Raye was imprisoned in the Vilna Ghetto in what is now Lithuania during World War II. "They arrested my father on July 22, 1942. He was a young 36-year-old man. They kept him in the prison. After 24 hours they took him to the killing fields."
Raye was eventually liberated from the Bergen-Belsen concentration camp. She describes starvation and how the Nazis would pour ash over the garbage so it couldn't be eaten by camp prisoners. Raye once found three potatoes and hid them in her scarf. An SS woman grabbed her by the throat, the potatoes fell out and she was beaten badly.
"I was in Hell. You cannot visualize it. My vocabulary is not rich enough to give you details." She attributes her rise from the depths of hell to one word and one word only. Hope. "Without hope you were dead. You lived with hope on a daily basis. You had to survive, take care of today. Then you could worry about tomorrow. I had to adapt. My father was dead and my mother did whatever she could."
In the last couple decades, Raye has spoken to numerous groups, sharing her journey from hell to a new life in America. "When I speak, I say at the very end, I don't hate. When I look at their faces, I can see them thinking that I'm full of it. So I tell them the reason why. I don't hate because hate is destructive. You become so full of it you lose track of who you're hating and what you're hating. So I cleaned this out of my life. 'How did you do that?", they ask. I don't know. i talked myself into it. Life is an attitude. You have to adapt to life, life doesn't adapt to you. You cannot live in the past. Nor can you hate. If you hate, then Hitler would have his victory."