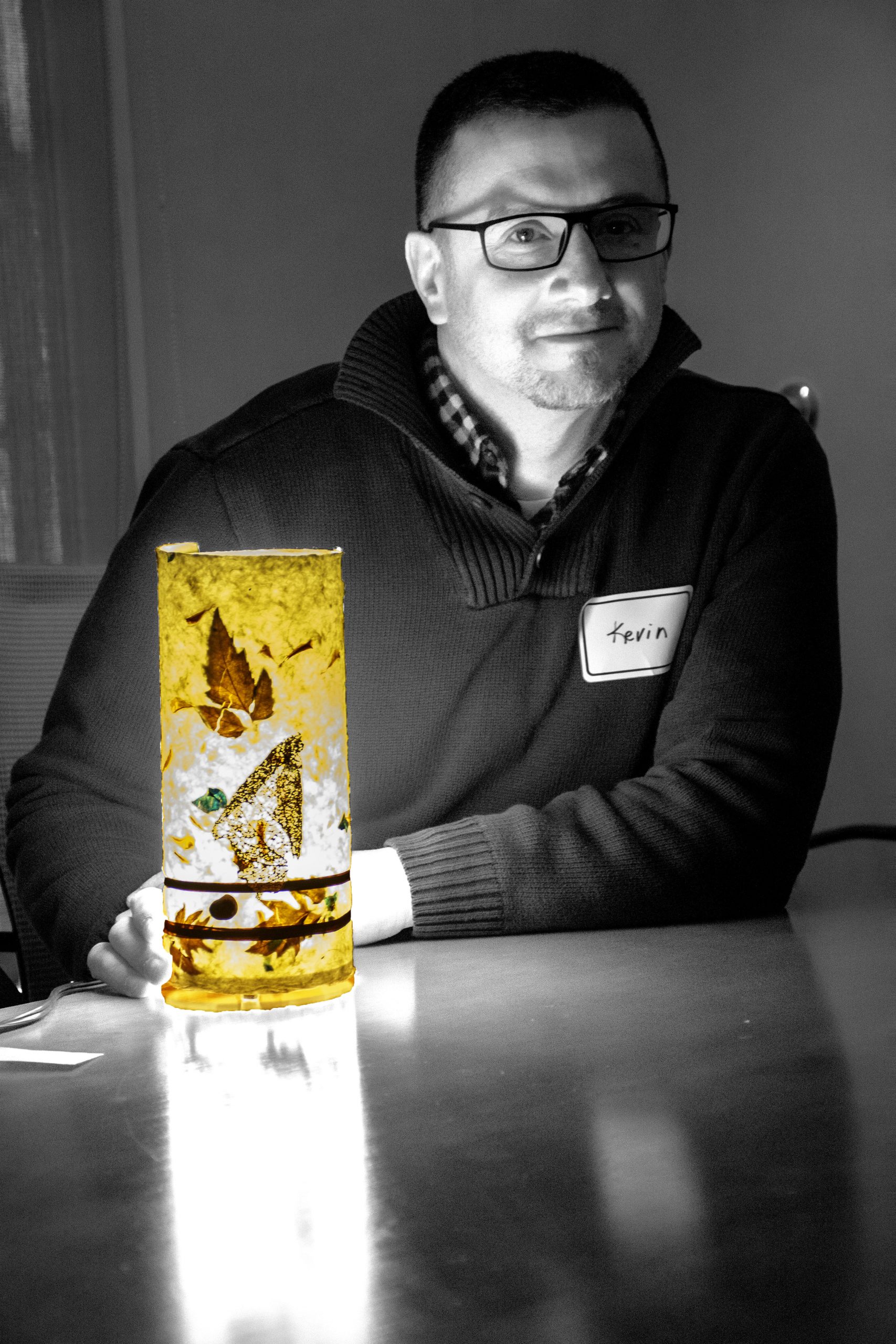 Kevin Geisler
Light #15
"A truth untold lies, Like a stone beneath the tongue." – Lamp Inscription
When my parents married, my mother became a Christian and that's how I was raised. I always knew we were different (my mother certainly was) but I didn't always understand why. We got matzo-ball soup and even gefilte fish every once-in-a-while in between the pizza and cheeseburgers. Other than that, there were enough Yiddish words mixed in with the German phrases Mother used to both give me a taste and to confuse me even further.
Most of our Jewish relatives lived an eight hour drive away in Cincinnati, and Mother had a difficult relationship with her parents even before marrying and converting, so there was never much time to get really close with cousins, aunts, uncles and such.
Sometimes I was told I was a Jew and sometimes I was told to shush about anything of the sort. The conservative Christian schools I went to were pretty clear on whether being Jewish was something to aspire to, so I mostly left it alone. If I am honest, it was easier to "pass" as best I could, keep my head down and try, like most kids do, to fit in.
To my shame, I was in my thirties before I had the epiphany of wandering into a Judaica store and seeing an entire shelf full of books that addressed the question "Who Is a Jew?" I really hadn't considered that there were that many people as confused about it as I was.
This, as well as making a new life-long friend (a fellow Christian-raised Jew – from Lithuania), lead to my seeking a better personal connection with this part of my heritage. This I did through reading, a little travel, and lots of introspection…
Skipping ahead to 2018, after doing a Google-search for photography-related gigs in the Milwaukee area, I idly looked through some volunteer opportunities listed at the bottom for anything that seemed interesting. I don't even remember how the call for action was worded, but for some reason I clicked on David Moss and The Illumignossi Project. To be honest, I didn't actually realize that the project was connected in any way to the Holocaust or even Jewish culture when I offered to take some pictures.
I do have a great love and respect for our elders and, thinking of the treasured moments I shared with my Father's mother near the end of her life and also the way that memory plays into my personal impetus to document things through photography, I was definitely interested in David's remembrance-oriented workshop.
I'm not one to make too much of coincidences, but it was certainly serendipitous to end up at the Ovation Center, to meet David and Rabbi Moishe and to have the honor a few months later of sitting in a workshop with three Holocaust survivors (people that I consider living treasures) at the Lynden Gardens. Also in my workshop were several children of Holocaust survivors and some children of slavery survivors. In this group it was easy to put my own minor discomforts and issues into proper perspective.
Hearing personal accounts, listening to how these people who had had to show so much fortitude just to get to this day still struggle with understanding the senselessness of what happened and also how, despite it all, they are filled with gratitude and feel so strongly compelled to bring light into the world was absolutely inspiring as well as altering to the world-view.
Being someone who takes on concepts best through analogy and metaphor, I leave the workshop struck most by the idea of the "shamash," the candle that lights the other candles. Surely each of us was gifted and blessed with a "flame" when our lamp was lit during the closing ceremony.
Surely each of us becomes, in turn, the shamash upon heading back out into the dark places of the world…
Dedication: To the 6 Million and to my Mother, who for most of my formative years was the only representation of Jewishness that I knew.