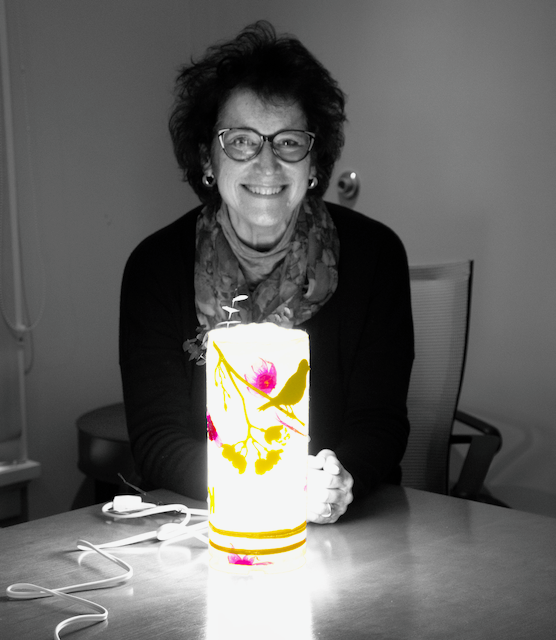 Sue Carneol
Light #19
Illuminating your paths.
From: Mequon WI
Dedication: Future Bliff/Carneol generations
Classification: Other Light-Maker
I am a 3rd generation American Jew. Both of my parents served in WWII and I know of heroes who liberated the concentration camps and helped others during one of the darkest periods of our modern history. I know survivors of the Holocaust and their children. My children, my husband and I are fortunate. We do not have personal narratives of family lost in the Holocaust. But we know that we should never forget the six million Jews whose lives were lost in the camps, the two million who were murdered by bullets and buried in mass graves around Europe, and the millions of non-Jewish victims who also perished due to intolerance, bigotry, racism, ignorance, and hatred.
My lamp is dedicated to future generations, more specifically, to the future generations of our family. May this light illuminate your paths to lead kind and moral lives filled with respect and tolerance for others, an eternal desire to learn, a keen sense of what is just and fair, and a perpetual drive to make this world a better place for all.
The bird symbol on this lamp should encourage us to use our voices to share beautiful messages. The butterflies represent the freedom we are privileged to have and appreciate, and the fence at the bottom should remind us to strive to overcome any obstacles in our way. Small holes were made around the lamp to allow smaller points of light to shine through representing generations to come.